2C – Cooking Cinema
Established in 2014, 2C-Cooking Cinema is a cooking studio facility owned by PT. Multi Flashindo Karisma. Initially used as a demo area for MFK's sales team, 2C-Cooking Cinema has since grows into a multifunction establishment.Fully equipped with branded commercial kitchen & bar equipment and spacious parking makes 2C-Cooking Cinema a perfect creative getaway place to host corporate events, private dining parties, cooking classes, special product launches, shooting, seminars, birthday parties and more. 2C – Cooking Cinema is a three story building completed with spacious parking lot.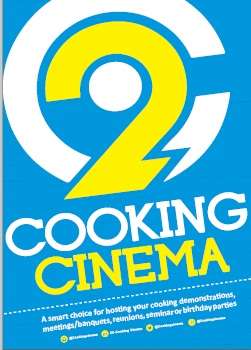 2C Company Profile
Room size : 12M (L) x 12M (W)
Room Space : 144M2 Ceiling Size : 3.7M
1ST FLOOR
Reception and Display Area
Kitchen Area Fully equipped with exhaust food, a top mirror reflecting the demo table, combi oven,   4 burner gas stove, deep gas standing fryer, sink & undercounter refrigerator, dishwashing machine,  etc.
Bar Area Fully equipped with 2 groups semi-automatic coffee machine, coffee grinder, refrigerated cake showcase, undercounter glass washer, etc